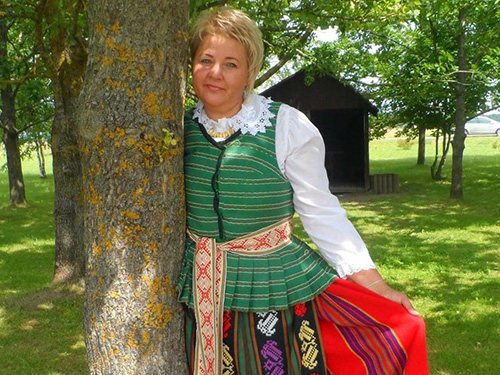 Gražina VERŠINSKIENĖ
"Užaugau tokioje šeimoje, kur vertybė buvo kitas žmogus, kur buvo skiepijama, kad dėkoti reikia paprastam žmogui, o ne valdininkui, kuris už darbą gauna atlygį. Namuose nuo vaikystės buvo kalbama, kad aukščiau turi būti ne tavo asmeninis, o visų žmonių, kaimo, bendruomenės interesas", – apie gyvenimo vertybes ima kalbėti Auksūdžio mokyklos-daugiafunkcinio centro direktorė, Auksūdžio kaimo bendruomenės pirmininkė Ingrida Braziulienė.
– Jūs tiesiog verdate veikloje. Ar šitas veiklumas irgi atėjęs iš šeimos?
– Pirmiausia, noriu pasididžiuoti, kad mūsų šeima, galima sakyti, yra šakniniai auksūdiškiai – močiutė ir senelis, mama Genovaitė, tetos, o ir aš čia gimiau, augau, dirbau ir dirbu, gal tik tėtis Stasys vėliau auksūdiškiu tapo, mat jis kilęs nuo Meinorių. Išaugau trijų vaikų šeimoje, esu vyriausia, turiu pusantrų metų jaunesnę sesę Gitaną, kuri šiuo metu gyvena Nyderlanduose, ir jauniausią sesę Ramunę – tarp jos ir manęs aštuonerių metų skirtumas. Tėvelis dirbo vyriausiuoju inžinieriumi, profsąjungos pirmininku (kolūkio laikais), mama didžiąją laiko dalį atidavė buhalterijai, bet buvo metas, kai dirbo mokytoja Laižuvoje, kultūrinio darbo organizatore Auksūdyje. Grįžtant prie klausimo, mes, vaikai, nuo mažens dalyvavome visose kaimo šventėse, su sese Gitana ne kartą buvome ir "švaraičiais", ir kitais personažais – buvome stumiamos į priekį, kad turime būti pavyzdžiu, turime atstovauti savo kaimui. Tai tėvelio neilgo, 42 metų, gyvenimo nuopelnas, mat jo visur buvo pilna – ir darbe, ir renginiuose, ir kitoje veikloje, jau tais laikais buvo išmaišęs beveik pusę Europos ir Rusijos didžiąją dalį. Iš jo tikriausiai paveldėjau gebėjimą ir tą aštresnį žodį, kuris ne kiekvienam patinka, pasakyti, ir veiklumą... Mama buvo ramesnė, taktiškesnė, tokia yra iki šiol. Mano tėtį kaimas vadino vardu – Stasys arba inžinierius. Auksūdiškiams aš tiesiog Ingrida arba mokytoja, nes Auksūdžio pradinėje mokytoja dirbau 17 metų. Manau, kad, kaip į tave kreipiasi, labai daug pasako apie tavo ir kitų žmonių tarpusavio santykį. Žmonės matė, kaip aš augau, gyvenau, kaip kūriau šeimą, kaip augo mano vaikai – esame to kaimo dalis, ir visiems turi rūpėti, kad čia būtų gerai, kad nenorėtume pabėgti. Pagal tėtį, šeima lyg ir liko tolėliau, pirmiausia buvo kolūkis, rodikliai, žmonės... Ta užkoduota atsakomybė už kitus, manau, man persidavė genetiškai...
– Turėdama tokį pavyzdį šeimoje, tikriausiai buvote geras vaikas...
– Geras vaikas buvau. Kadangi buvau pirma anūkė šeimoje, buvau labai mylima. Esu apkeliavusi didžiąją dalį auksūdiškių krikštynų, vestuvių, metinių, laidotuvių, nes močiutė Zuzana buvo kaimo "gaspadinė". Mane vesdavosi kaip palydovę ir pagalbininkę, padėdavau pyragus kepti, ežiams spyglius iš miltų sukočioti ir t. t. – kartu nueidavome, pareidavome, niekada nesudarydavau problemų. Į šventes vykdavau ir su tėvais, mašinoje turėjau savo pagalvėlę, apklotą – užeidavo miegas, aš jau mašinoje snaudžiu. Kartą, gal kokių penkerių buvau, kai tėvus išgąsdinau – buvome vestuvėse, tėvai pastebėjo, kad manęs nebėr. Sukėlė didžiulį sujudimą, o aš mašinoj ant savo pagalvėlės ramiausiai snaudžiu, nuo to laiko pirmiausiai žvilgtelėdavo į mašinos vidų. Mūsų niekas nelepino, kaip ir visi vaikai, su sese Gitana eidavome dirbti į lauko brigadą, dirbau pačius įvairiausius darbus, patį įdomiausią atsimenu ir dabar – reikėjo iš sėklinių rugių išravėti ramunes, tad mes tiek per dieną tame lauke pridūkom, dirbom nedaug (juokiasi), tad vakare vos parėjom namo. Tėvai užjautė, kad labai dirbdamos pavargome, ir tą vakarą atleido nuo ūkio darbų. Kaip ir visi auksūdiškai vaikai, turėjome atidirbti 20 dienų, nes tuometinis Ždanovo kolūkis išpirkdavo nemokamą maitinimą mokykloje, tiesa, dirbdavome daugiau, nes mums už tai mokėdavo.
– Kaip ten atsitiko, kad dar mokinukė dirbote karvių komplekse?
– Kai mokiausi 8 kl., mūsų karta buvo bandomoji – kai visos mergaitės mokėsi austi, siuvinėti, mes mokėmės gyvulininkystės, atlikome praktiką karvių komplekse, susipažinome su melžimo agregatais, pačiu procesu. Susirgus vienai melžėjai, Auksūdžio komplekso vedėja Arija Liaugminienė manęs, penkiolikmetės, paprašė savaitėlę, antrą ją pakeisti. Ir ką manote, kiek aš išdirbau... Beveik du mėnesius – visą vasarą atidaviau karvių kompleksui. Prisimenu, sesės su tėvais važiuoja į Palangą, o aš negaliu. Vakare draugai žaidžia, o aš einu gulti, nes keldavau pusę keturių ryte – 5 val. prasidėdavo rytinis melžimas. Tiesa, man kitos melžėjos padėdavo prisirišti karves. Prisimenu, kartą nuėjau į šokius, gal kokią valandikę pamiegojau ir reikėjo keltis į darbą. Uždėjau aparatus ir... užsnūdau, girdžiu tylų dabartinio kaimyno Jono, šienainį dalijusio, balsą: "Kelkis, su silosu tave apkratysiu." Tiesa, manimi tą vasarą susidomėjo žurnalas, rašęs apie žemės ūkį, norėjo mano patirtį aprašyti, pagirti visai šaliai... Prabudo paaugliškas ego, o gal gėdos jausmas, kaipgi visi draugai žaidžia, pramogauja, o aš fermoje dirbu – pareiškiau tėčiui, kad, jei įdėsite mane į laikraštį, su pirmininku karves nuo rytojaus melšite patys. Tada mano nuomonė buvo išgirsta, žurnalistas neatvyko, bet tą vasarą aš buvau labai turtinga – uždirbau net 200 rublių, tai buvo rimti dideli pirmieji pinigai, nors vasaros atostogų gal kokias tris savaites beturėjau.
– Kad darbo nebijote – tai akivaizdu, o kokius mokslus baigėte?
– Baigiau Laižuvos devynmetę mokyklą, o vidurinį išsilavinimą įgijau Pavasario vidurinėje – esame istorinė, pirmoji tos mokyklos laida. Reikėjo kaip kaimo vaikui vietą po saule išsikovoti, bet niekada nebuvau ta, kuri kampely sėdėtų, apsigindavau savo nuomonę, buvau drąsi. Vėliau sekė mokslai Klaipėdos universitete, kur baigiau vaikystės pedagogiką, specialybės spektras platus – galiu dirbti nuo kūdikių namų iki pradinių klasių. Universitete tapau grupės seniūne, turėjau vietą studentų atstovybėje, metus gavau Senato stipendiją (doleriais, iškeitus gavau 500 litų), kuri buvo skiriama labai gerai besimokantiems studentams, iš dalies tapusiems našlaičiais, o aš pirmame kurse netekau tėčio. Sunki aštuoniolikmetei buvo netektis, bet lengvino tai, kad turėjau draugą, dabartinį vyrą Vaidą. 2010 metais baigiau Šiaulių universitete magistrantūros studijas.
– Ar Jūsų vaikystės, jaunystės svajos sutapo su pasirinkta studijų kryptimi?
– Antroje klasėje mokytoja davė užduotį parašyti, kuo norėtumėme būti, tada buvo populiaru berniukams – kosmonautai, aš parašiau, kad būsiu mokytoja. Tai išliko ir vėliau, tik labiau linkau prie lietuvių kalbos ir literatūros, nes šalia turėjau tokią stiprią mokytoją kaip Laima Skabickienė, į kurią galėjau lygiuotis. Ji įskiepijo meilę lietuviškai dainai, žodžiui, labai ačiū jai. Jau būdama dešimtokė metus važinėjau į Vilniaus universitetą, šeštadieninę mokyklą – mokiausi žurnalistikos amato, maniau, kad būsiu žurnalistė. Galiausiai nugalėjo lituanistika – stojau į Klaipėdos universiteto lietuvių k. ir filologiją, bet pritrūko 0,25 balo, tada greitai užpildžiau prašymą, kad priimtų studijuoti vaikų pedagogikos, negalvojau, kad su pradinėmis klasėmis dirbsiu, nes visada norėjau su suaugusiais žmonėmis, su kuriais gali pakalbėti, diskutuoti. Pradinės klasės vien todėl, kad nenorėjau prarasti metų... Bet išėjo taip, kad žmogus planuoja, o Dievas juokiasi. Jei dabar reikėtų grįžti atgal, labai gerai pagalvočiau apie chirurgiją. Po 10 m. taip išėjo, kad pradėjau magistro studijas – vadybą ir viešąjį administravimą su švietimo vadybos specializacija. Nei žadėjau studijuoti, nei man tų studijų labai reikėjo, sėkmingai dirbau pradinių klasių mokytoja – pažįstamas iš Švietimo centro paskambino ir pasakė, kad renkama grupė ir jis mane jau užrašė, įkalbėjo nors ateiti ir pažiūrėti – atėjau, pamačiau savo pavardę... Gėda išeiti ir baigiau. Lyg ir esu jam skolinga, mat prisireikė, kai kandidatavau į Auksūdžio mokyklos-daugiafunkcinio centro direktoriaus pareigas. Labai norėjau išmokti groti akordeonu, tad 2002 metais tris mėnesius lankiau privačias muzikos pamokas Laižuvoje ir išmokau, tai buvo svajonė nuo vaikystės. Visada vadovaujuosi nuostata, jei bent vienas žmogus tai gali padaryti, vadinasi, galiu ir aš. Nesakyčiau, kad viską dariau kryptingai... Kai pradedu dėlioti savo gyvenimą, pastebiu – visada atsiduriu tam tikru laiku tam tikroje vietoje.
– Ar taip netikėtai ir į politiką buvote atėjusi?
– Būtent, reikėjo jauno žmogaus, moters pavardės sąrašo penketuke. Išėjo netikėtai, kaip A. Valinskui, norėjau pajuokauti, o išėjo rimtai... Ir juokauti reikia atsargiai. Politikoje sutikau daug įdomių žmonių, įgijau neįkainojamos patirties, daug gavau gyvenimiškos patirties. Tavo norai gali būti labai geri, nes ir pragaras gerais norais grįstas, bet, jei tu nori, tai nereiškia, kad ir kiti to siekia. Manau, mūsų politikams reikėtų pasimokyti – jei tu kritikuoji, o ji, kritika, reikalinga, nes veda į priekį, tai turi kritikuoti kultūringai. Neįžeidžiant, neužgauliojant, nes tu ne apie personaliją kalbi, bet turi būti nusiteikęs prieš tam tikrus sprendimus, kurie šiandien vienokie, rytoj kitokie. Kuo toliau, tuo politinės kultūros labiau stinga... Nesvarbu, iš kur tu būtum atėjęs, kokiai partijai, judėjimui priklausai, jei mumis žmonės patikėjo, mes turime paminti savo ambicijas ir dirbti vardan bendro tikslo, kad mūsų rajonui, mūsų žmonėms būtų geriau, ir tada nebeturėtume laiko ginčytis, vaidytis.
– Auksūdyje, nelikus pradinės mokyklos, ji išaugo į didžiulį centrą. Kokias emocijas sukelia Laižuva, kuri taip ir liko be kultūros židinio?
– Buvo gaila – ten baigiau mokyklą nuo 1 iki 9 klasės, kurioje dirbo puikūs mokytojai: pirmoji mano mokytoja I. Baranovienė, L. ir J. Skabickai, G. ir S. Šiuriai, N. Lukauskienė, L. Zubys, A. Rudys, E. Janavičienė ir t. t., kurie mano gyvenime įmynė labai stiprias pėdas, mokykla buvo rajone lyderiaujanti mokslo atžvilgiu, o baigusiųjų žinios buvo geros ir labai geros. Berods, šiemet mokykla būtų šventusi 120 metų sukaktį – nesitiki, kad taip gali būti, aš 23 pagal sąrašą buvau klasės dienyne, kai mokiausi. Liūdna, kad kai kas priekaištavo, jog per mūsų centrą mokyklą uždarė, tačiau iš Laižuvos nė vienas vaikas pas mus neatėjo į pradines klases nuo rugsėjo 1 dienos.
Auksūdžiui pasisekė, mes buvome vieni iš pirmųjų kregždžių Lietuvoje steigiant daugiafunkcinius centrus. Taip, liko sentimentai Auksūdžio pradinei mokyklai, bet ne liūdni, nes ji atgimė, tik kitu pavidalu. Ir iš tiesų, kaimas gyvas, plečiasi. Prisimenu, su vaikais kovą išsikrausčiau į bendruomenės namus užbaigti mokslo metų, o jau spalio 31 d. sugrįžau į daugiafunkcinį centrą... tik jau kaip vadovas. Susėdome prie mano atsinešto torto, jaudinausi, širdis "kalatojosi", nes dalis pavaldinių – mano kaimo žmonės, nors buvau ir Auksūdžio seniūnaitijos seniūnaitė, ir bendruomenės valdyme sukausi, tačiau reikėjo rasti tą vadybinę ribą – tarp pajuokavimų ir stipresnio balso, bet, svarbiausia, neįžeisti žmogaus. Džiaugiuosi, kad pavyksta išvengti konfliktų. Centre dirba puikūs savo srities specialistai, darni komanda gali daug, aš juos labai branginu, ne kartą sakiau, koks garsas sklis apie mūsų darbus, tiek mes turėsime darbo. Kol kas klostosi puikiai.
– Jūs ne tik centro direktorė, bet ir bendruomenės pirmininkė...
– Centre verda visas kaimo gyvenimas – kaip bitės avily... Mokytojus keičia muzikantai, amatininkai, neformaliojo ugdymo pedagogai, kiti specialistai, tad ir mano darbas bei veikla persipina. Stengiamės dėl žmonių, todėl ir vis didėjančio jų aktyvumo laukiame, kaip ir visur, yra viena kategorija, kuri nieko nenori, o kiti į kiekvieną skelbimą reaguoja. Stengiamės, kad renginiai būtų verti dėmesio ir kad jų būtų ne per daug, štai ir dabar gegužės 26 d. vyks Lietuvos 100-mečiui skirtas renginys "100 pavasarių", kuriame dalyvaus ir penkios bendruomenės, mat šios šventės data sutapo su Kaimynystės diena. Turiu nemažą pagalbininkų būrį, stengiuosi kuo daugiau įtraukti žmonių, didelį dėmesį rodome gyvenimo nuskriaustiems žmonėms, juk visi turime jaustis reikalingi, ir kaip džiugu, kad jie su entuziazmu, pagal savo kompetencijas, imasi pavestų darbų. Visada jiems stengiuosi padėkoti garsiai, viešai įvertinti jų indėlį, kad jaustųsi reikalingi – tai daugiau padeda nei vaistai, draudimai ar pan. Matyt, tas mano bruožas irgi atėjęs iš šeimos. Kuo ypač džiaugiamės – mūsų bendruomenėje nėra didelio judėjimo, čia apsigyvena mūsų užauginti vaikai, jie kuria šeimas, perka anapilin išėjusių sodybas ir vėl sukasi gyvenimo ratas. Pas mus beveik nėra dvimetrinių tvorų su vartais – mes vieni kitus pažįstame, o naujai atsikėlusius žmones kviečiame įsitraukti į mūsų kaimo veiklą, gyvenimą. Turime tik kelias šeimas, atėjusias iš kitur, bet stengiamės, kad jie įsilietų į mūsų gretas.
– Jums pasisekė, kad visur ir visada palaikė ir palaiko vyras. Ar užtenka laiko šeimai?
– Su būsimu vyru Vaidu susipažinome 1990 m. šokių salėje, po penkerių metų prisiekėme eiti koja kojon per gyvenimą. Mes esame viena iš nedaugelio porų, kurios ir turėdamos šeimą baigė mokslus stacionare, mat ištekėjau trečiame kurse, o diplomo atsiimti ėjau turėdama pusės metų sūnų ant rankų. Su gruodžio mėnesį gimusiu sūnumi Žygimantu vasarį jau atvykome į studijas, turėjau pagalbininkų, kurie po Klaipėdos senamiesčio parką pavažinėdavo sūnų, kol buvau paskaitose. Taigi net porą metų buvau savaitgalinė žmona. Žinoma, Vaidui buvo bandoma pasėti abejonių, ar nebijąs išleisti, tačiau mano vyras visada buvo supratingas, ramaus būdo. Visada stengiuosi kompensuoti savo nebuvimą, tačiau į greitą gyvenimo tempą dabar įtrauktas ir Vaidas, ir mums tai tinka, tad kivirčų nebūna, laisvalaikį pasirenkame bendru susitarimu. Mūsų vaikai augo labai geru laikmečiu, jei auginčiau dabar – nežinau, ar nebūtų problemų su vaikų teisės specialistais. Vaikus augino kaimas, gatvė, draugai – ne todėl, kad laiko nebuvo, tiesiog tada taip vaikai augo, visi kartu. Laisvalaikis su šeima, kol vaikai buvo maži – išvykos prie jūros, kelionės, turistiniai žygiai. Kaip ir mano tėvai, kvietėme vaikus į kaimo renginius, būti aktyviais jų dalyviais. Dabar Žygimantui 21 metai, universitete studijuoja teisę ir muitinės veiklą, o aštuoniolikmetis Daumantas – Merkelio Račkausko absolventas, abu sūnūs domisi vyriškais dalykais: motociklai, mašinos, tačiau mūsų šeimai ne bėda suorganizuoti bet kokią iškylą, vakarėlį ar šventę. Mano vyrai idėjomis, užmačiomis ir mintimis dažnai lenkia mane pačią.
– Prakalbus apie šeimos šventes, gal ir šventimo tradicijas turite?
– Žinoma, turime, jos perduodamos iš kartos į kartą. Kūčių vakarienę valgome ir vieną "plotkelę" su palinkėjimais dalinamės bei maldą kalbame pas vyriausią šeimos narį. Nelikus močiutės, dabar renkamės pas mamą. Mūsų namiškių daug, pas mamą susėdame prie stalo 20 žmonių, bet visi esame vienoje kupetoje, Auksūdyje, tik skirtingose gatvėse. O Kalėdų Senelio pasiuntinių paliktos dovanos pakuojamos tik šv. Kalėdų rytą – jų randame ir medžiuose pakabintas, ir kur nors pastogėj, kartais surandame išsprendę šaradą ir pan. Velykų stalą jau daug metų puošia mano nulipdytas sviestinis avinėlis, šią tradiciją perėmiau iš močiutės Zuzanos, savo vietą atranda ir mano kepta ruginė duona, namuose ji kepama jau penkeri metai, taigi, duonos neperkame, juk pačios kepta daug skanesnė ir skalsesnė. Mėgstu šeimą maitinti sveikai.
– Kaip leidžiate laisvalaikį ir kokie Jūsų pomėgiai?
– Mano tėvai turėjo mašiną, tai mes keliaudavome po Lietuvą, Latviją, aplankyta daug piliakalnių, muziejų, kitų lankytinų vietų. Mūsų šeima irgi važiuoja, tos šeimos kelionės retkarčiais vis pasikartoja, žinoma, galėtų jų būti ir daugiau. Daug keliauju viena – esu apkeliavusi 29 Europos valstybes, į pirmą kelionę išvažiavau, kai mažajam sūnui buvo 3 metukai, ir taip sėkmingai kartu su rajono mokytojais važiavau 10 metų iš eilės, kartais net porą kartų per metus, tai buvo edukacinės-pažintinės išvykos po Europą. Vyras būdavo su vaikais, džiaugiuosi turėdama tokį puikų, visada mane palaikantį, supratingą, ramų žmogų šalia. Praėjusiais metais į Austrijos vyno festivalį vykome kartu su vyru. Gal kam ir nesuprantama, kad vyras suteikė tas galimybes keliauti, tai rodo jo pasitikėjimą manimi, mūsų jausmų stiprumą. Vyras ypač myli jūrą – jei nebūtų inžinierius, tikriausiai būtų buvęs jūreivis, tad vasaros savaitgaliais, jei nieko nėra suplanuota, jau traukiame į pajūrį, kol jis mėgaujasi jūros malonumais, aš skaitau knygas, kurias labai mėgstu. Į šį pomėgį panyru žiemos metu. Nieko nėra geriau nei gera knyga, puodelis karštos arbatos ir židiny šokantys ugnies liežuviai, kai už lango siaučia pūga. Paskutinę žiemą bene 36 perskaičiau. Mėgstu istorinius romanus su truputėliu romantikos. Nuo vaikystės mano tėvų sodyba buvo pavyzdinė, gal kitus būtų atgrasę, bet dabar mūsų su Vaidu kieme daug gėlių, augalų, o mane, jei kas supykdo, žemės energija nuramina. Jau ketvirtus metus dainuoju ansamblyje "Auksė", muzika mūsų šeimoje gyveno nuo ankstyvos vaikystės, ilgais žiemos vakarais, kai susirinkdavome pas močiutę, dainoms nebūdavo galo, tad galiu pasididžiuoti, moku daug senovinių romansų, dainų. Be to, turime dar vieną šeimos bruožą – visa šeima neįsivaizduojame namų be šuns, bet aš nesu kačių gerbėja...
– Tai gal vyras ir staigmenų nepagaili?
– Mūsų visas gyvenimas yra staigmena. Šįvakar esu čia, o rytoj nežinau, kur būsiu. Būna kartais ryte pasako: "Turi 10 min. pasiruošti." O kur vyksime, taip ir lieka neaišku. Jei kitos giriasi, kad skęsta gėlių jūroje, tai pas mus ne taip, turime savas tradicijas. Taip, per metus daug kartų Vaidas pamalonina gėlėmis, ir visada gruodžio 31 vakare žinau, kad sulauksiu puokštės tulpių, dažniausiai geltonų, ir daug – taip palydime senuosius metus. Nieko nėra nuostabesnio – vidury naujametinio stalo pavasario gėlės, tulpės, o aplinkui girliandos... Nepamirštamos ir vestuvių metinės, dažniausiai jas pažymime išvykoje, jaukiame viešbučio kambaryje. Žinoma, užaugus vaikams ir staigmenos kitokios...
– Ar galima sakyti, kas Jūs esate pasiekusi gyvenimo pilnatvę ir jokių planų nebeturite?
– Tų svajonių niekada nėra gana – labai norėčiau aplankyti Afrikos safarį, kažkaip traukia juodasis žemynas (nes pagal zodiaką esu Liūtas, o pagal horoskopą Tigras, gal dėl to). Dabar sustabdo finansai – vienas dar studentas, kitas jau šiemet juo taps – tai gal kokiems penkeriems metams tas mintis reikia nuginti į šoną. Yra ir su bendruomene susijusių planų – turėti Auksūdyje alternatyvų energijos šaltinį, kad energetiškai nuo nieko nepriklausytum, vaikščiotum apšviestomis gatvėmis, šviečiant žibintams. Manau, saulės kolektoriai kada nors vis tiek bus, juk mintys materializuojasi... Labiausiai noriu, kad sveiki būtų namiškiai, kad jiems pasisektų visi sumanymai, kad žmonės nekęstų nepritekliaus, kad visi savyje turėtume kuo daugiau pozityvo.
– Ko norėtumėte palinkėti, o gal pasakyti?..
– Kiekvieno žmogaus ramybė priklauso nuo paties žmogaus, kaip sakoma – šypsokis pats ir gyvenimas šypsosis tau. Juk ir blogesniuose dalykuose reikia įžiūrėti kažką gero. Tu turi įvertinti tai, kad gali eiti, matyti, girdėti, kad aplenkia stichinės nelaimės – to optimizmo reikia kiekvienam, antraip ta vidinė tamsa sunaikins. Pačiam reikia būti šiltesniam viduje: nepavydėti, pasidžiaugti kitų sėkme. Norėčiau, kad miesto žmonės nenuvertinų kaimo. Juk ir istoriškai žiūrint daug didžių žmonių – poetų, rašytojų, politikų, gydytojų, visuomenės veikėjų – atėję iš kaimo. Ir dabar kaimas nebe tas, kur buvo arkliukas, žagrė, kaime gyvenimas ženkliai pagerėjęs. Bendruomenės yra tos organizacijos, kurios gali sujudinti, suvienyti kaimą, suburti, kad visi jaustųsi reikalingi, nežiūrint, ar tu su negalia, ar sveikas, senas ar mažas – mes kartu džiaugiamės, kartu liūdime, švenčiame... Kartu galime padaryti labai daug, tad susivienykime visi geriems darbams...
Nuotrauka iš asmeninio archyvo