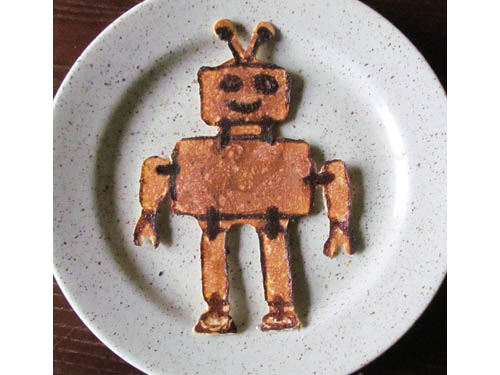 Norime mes to ar ne, nauji technologiniai išradimai vis labiau įtraukiami į mūsų kasdienes veiklas. Sugalvojama vis daugiau būdų ir idėjų, kaip pasilengvinti įprastus darbus ir taip sutaupyti laiko bei energijos. Net toks, rodos, elementarus procesas, kaip, pavyzdžiui, blynų kepimas, tampa vis labiau modernizuotas. Nustebtumėte, kokiomis inovacijomis siūlo pasinaudoti šiandienos išradėjai, siekdami paversti blynų kepimą greitu ir lengvu, tačiau labai kūrybišku procesu.
Norite išskirtinių pusryčių? Atsispausdinkite juos!
Sunku patikėti, tačiau naujosios technologijos tikrai suteikia tokią galimybę. Jungtinėse Amerikos Valstijose gyvenančio išradėjo, norėjusio tiesiog nudžiuginti savo dvi dukras, sukurtas blynų "spausdintuvas" nustebino visą pasaulį. Šis "spausdintuvas" suteikia galimybę pačių sukurto piešinio vaizdą perkelti į pusryčių lėkštę. Toks užsiėmimas sukėlė žaibišką susidomėjimą ne tik vaikų, bet ir suaugusiųjų tarpe, mat ši netradicinė veikla lavina vaizduotę ir kūrybiškumą, suteikia galimybę daugiau laiko praleisti su šeima ar draugais, kuriant išskirtinius, skanius meno kūrinius.
Išradimas veikia tokiu principu, kuomet nuosavame kompiuteryje pačių nupiešiamas paveikslėlis (gali būti ir nuotrauka ar skenuotas piešinys). Galima netgi pasirinkti, kurios linijos bus piešiamos pirmiausiai- jos bus ryškesnės, nustatyti dydį, šešėlių atspalvius. Jau paruošta tešla įpilama į specialų indą, aparatas prijungiamas prie kompiuterio ir tuomet jis jau visą darbą atlieka už jus. Išsikepti savo svajonių blyną jums užtruks vos 30 sekundžių. Sukurtą blynų dizainą norėsite panaudoti ne vieniems pusryčiams? Nebėda! Kiekvieną piešinį galite išsaugoti- įkelti jį į integruotą atmintinę ir panaudoti vėliau.
Talentingų lietuvių galvose- genialios idėjos
Alternatyvą šiam amerikiečių išradimui pristatė ir inovatyvūs Lietuvos kūrėjai. VGTU "LinkMenų Fabriko" dirtuvėse gimė kūrybinį džiaugsmą pajusti leidžiantis blynų "spausdintuvas" (ploteris). Jis sukurtas taikant naujausias CNC technologijas (angl. computer numerical control), kurių pagalbablynų dizainas atspausdinamas tiesiai iš kompiuterio.
Kol šis unikalus išradimas vis dar tobulinamas ir į mūsų lietuviškoje virtuvėje nėra įprastas, siūlome išbandyti kitą, originalų įprastų blynų pateikimo variantą, kuris pakels nuotaiką šaltais žiemos rytais. Blynų "spaudintuvo" alternatyvą nesunkiai galite pasigaminti patys ir tai jums nieko nekainuos! Tiesiog paimkite seną kečiupo, ar kitą, panašios formos, buteliuką (svarbiausia – siauru galu), pripildykite jį blynų tešla ir pieškite tiesiai ant įkaitintos keptuvės.
https://www.youtube.com/watch?v=RfPKxA91uto
https://www.youtube.com/watch?v=RHRbgwM2Guk
Pateikiame jums visiškai nesudėtingų, tačiau tikrai gardžių blynų tešlos receptą, kuris puikiai tiks būtent "pieštiems" blynams gaminti.
Tešlai reikės:
"Kauno grūdų" miltinio mišinio blynams;
370-450 ml šalto vandens arba pieno (kad tešla būtų skystesnė, galite įpilti ir daugiau)
Gaminimas:
Suberkite mišinį į dubenį, supilkite vandenį. Maišykite tol, kol susidarys vientisa, be gumulėlių tešla.
Leiskite tešlai pasibrandinti 10-15 min. Paruoštą tešlą supilkite į buteliuką ir neskubėdami pieškite blynus įkaitintoje keptuvėje.